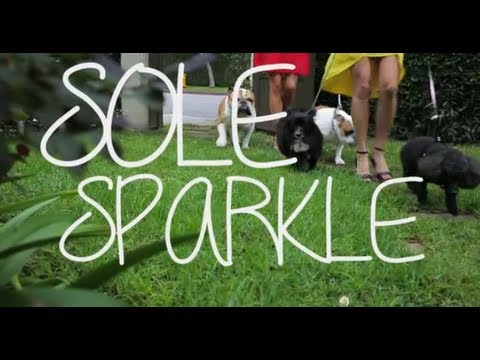 Congratulations to our three winners: Jordan, Lisabeth, and Laura! Please email contact@pennychic.com for details on how to get your $50 gift card to Sole Society!! 
Remember that fun Sole Society video shoot I was telling you about last week? Well, here's the final product!  I, along with Devon Rachel, Sydne Summer, Ashley Torres, and Jacey Duprie (check out all their sites if you haven't yet) teamed up with Sole Society in this sparkly festive video to raise awareness for homeless pets during the holidays. Each of us sponsored a dog and with every purchase at Sole Society (see below for discount!), Best Friends Animal Society has agreed to match the purchase with a donation! We had a BLAST filming it! AND… I discovered my love for dogs. Yes, I know I was probably the only person in the world who wasn't dog crazy, but this video shoot converted me!!
About my outfit: In typical Penny Chic fashion, I sported a Robert Rodriguez dress, from the Neiman Marcus for Target collection. The "Suzanne" heels are Sole Society (duh) and I made the bracelet at the DIY Swarovski event I went to last week! Basically, it was a head-to-toe Penny Chic affair.
DISCOUNTS AND GIVEAWAYS
Just like the last Sole Society post I did,  you get $20 off of your first purchase when you follow this link and type "PCSparkle20″. Discount is valid through December 31, 2012! Now here comes the good news… We're ALSO giving away three $50 Sole Society giftcards, which is a brand new pair of shoes! In order to enter, first you must subscribe to my YouTube channel here and then go to the Sole Society website and tell us which shoe you'd choose and how you'd style it! 
Shop the Items